Frank Smeenk Addresses Parliament of Canada – Standing Committee on Natural Resources, October 27, 2016
The House of Commons' Standing Committee on Natural Resources, Study of the Future of Canada's Oil and Gas, Mining and Nuclear Sectors for Thursday, October 27th, 2016, from 9:45 to 10:45 am
Here is an edited version with only the opening statement and question period to the Parliament of Canada: Standing Committee on Natural Resources, October 27, 2016 of Frank Smeenk, President and CEO of KWG Resources.
The Committee is assessing innovative and sustainable solutions to create economic opportunities for the mining sector. Your participation, as part of a panel, would consist of an opening statement of 5 to 10 minutes, followed by rounds of questions from the members. Against the backdrop of a significant downturn in global commodity prices:
What can government and industry do today to create a strong foundation for future growth?
What unique advantages in the Canadian mining sector should be leveraged?
Are there opportunities to improve our mining practices or develop and deploy new technologies to address the environmental impacts of the sector?
How can we ensure that Indigenous peoples and communities are meaningfully engaged through all stages of mineral development, production and refining so that their voices are heard and they can participate in identifying potential problems and solutions?
Opening Statement of Frank Smeenk, President & CEO of KWG Resources Inc:
Ladies and gentlemen, thank you so much for this opportunity to speak to you this morning. The four questions that your committee is addressing today are questions that prey on my mind for most of about 18 hours of every day.
Canada's oil sands are located deep inside desolate territories inhabited mainly by indigenous people. The oil sands are valued at better than $2 trillion and when the price of oil collapsed recently, so did the Canadian dollar.
Environmental impacts are major concerns for the development of the oil sands. Industry and governments have spent in excess of $100 billion in developing the oil sands, and they are projected to contribute to the Canadian economy for the next 170 years.
Now, Canada also has the rich mineral reserves of the Ring of Fire, similarly located deep inside desolate territories inhabited mainly by indigenous people. They live in isolated communities on the periphery of the uninhabitable James Bay Lowlands that are only accessible by winter roads.
The Ring of Fire's development could be the catalyst which invites these First Nations to be part of the fabric of our society.
The major mineral in the Ring of Fire is chromite. We estimate that there is as much as $600 billion of chromite buried there. Industry and government has thus far spent only about $1 billion in developing the Ring of Fire.
However, I believe that development of the Ring of Fire can be the next large and major driver of the Canadian economy. I estimate that it could add 2% to our GDP, or $35 billion annually, for each of the next 100 years.
How so? Well, about two thirds of the world's chrome is sold to the Chinese who produce about two thirds of the globe's stainless steel. Only a few months ago, we paid for a contingent of 9 Chinese engineers to visit the Ring of Fire for a feasibility study to build and finance in China, railroad access to it.
But, this area of the Canadian North is a large part of a hemispheric ecosystem above the 50th parallel which contains one third of the planet's trees. They filter our carbon emissions. Peat lands, such as those hosting the Ring of Fire, are in fact the most efficient carbon sinks in the world.
On the other hand, China and its steel industries have been acknowledged as major polluters of the atmosphere. However, they are working hard to clean up their act and this past February they signed a joint declaration with Canada on a clean technology cooperation agreement.
Canada, mainly in the north, is a generator of substantial carbon credits. And China, has an obligation to the world to balance its pollution with carbon credits.
The Ring of Fire can clearly be developed, in cooperation with the 24,000 indigenous people of the northern communities of Hudson's Bay, by using clean technology. Alternatively, we can do it like we always have, using old technology and old transportation methods, all of which contribute to global warming, interfering with the delicate ecosystem of what today is pristine topography.
Elon Musk was born to a Regina-native mother and attended Queens University in Kingston, before this Canadian export moved to Silicon Valley to eventually found Tesla, and now SpaceX, while continuing to try to make an ecological difference in the world.
Our company, KWG Resources, has developed a clean technology for the beneficiation of chromite using natural gas, which is up to 80% more environmentally friendly than current electric arc technology. The CanMet Lab of your Ministry of Natural Resources is currently testing our technology and doing excellent work with remarkable results.
Commercializing this process will enable Canada to be the world's lowest cost producer of ferrochrome.
The Ring of Fire needs $3 billion in financing for development, mainly for transportation assets for an ecologically-friendly thoroughfare through the tundra to the rail connections in the south.
So the stage is set. President Xi of China needs our chrome and he needs our carbon credits. Our Prime Minister and government have obligations to preserve the environment, obligations to our indigenous peoples, and you-all are pledged to continue Canada's growth and prosperity.
I ask you, therefore, to entreat Prime Minister Trudeau to present to President Xi an elegant solution, which can impact Canada for the next 100 years.
China will buy chrome from the Ring of Fire over a 100 year buying program. Such a commitment from China will thus finance the total development of the Ring of Fire and we will give China chrome and carbon credits in exchange. China and Canada will win much international attention for such a trade!
Now, back to Elon Musk. KWG is working with Elon, through one of his incubators, on a possible ground-breaking solution for transport of the ore and people, to and from the Ring of Fire. We call it the Ring of Fire Hyperlink project.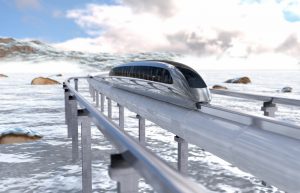 The Government of Canada is supporting, according to the press, a Hyperloop called TransPod, to be built between Toronto and Montreal. Think of the old department store pneumatic vacuum tube that used to deliver invoices, and then, instead, imagine ore and people in the capsules.
Toronto life magazine says that in 50 years the city will have 13 million people and a Hyperloop will deliver them to Montreal in 30 minutes.
I would contend though that we should look after our obligations to the indigenous people first. Only 36% of them are graduating from high school. We would propose that a most elegant, efficient, cost-effective and environmentally friendly use of Hyperloop technology is to build a Hyperlink from the Ring of Fire to Nakina, in northern Ontario.
As an ancillary to bringing out the chromite, it would create jobs and an eco-tourism that couldn't possibly exist except for this kind of game-changing infrastructure technology.
Of course, this first requires a trade-off study, as an alternative to our China Railway current feasibility study for the building and financing of a traditional railroad.
So ladies and gentlemen, I think I've answered your questions. I've defined for you a growth strategy for 100 years that has the potential of the Alberta oil sands, and will contribute at least $35 billion in GDP growth and a cumulative $3.5 trillion in long term economic activity, in my opinion.
I've defined the leverage that we have in controlling this exclusive and giant source of the only chromite in the Western Hemisphere; and China needs our resource. We believe that they are willing, and anxious for Canada's cooperation to allow them to buy chrome and so finance it.
We believe that Prime Minister Trudeau only has to ask for the order.
I've defined for you two technologies with dramatically positive environmental impacts which will deliver to China and Canada global admiration for using clean technology to develop a new mineral supply source.
I've given you a program that will benefit the indigenous people, who we've isolated in these remote territories, and which are now environmentally critical to the survival of the planet.
In closing, I would ask you to perhaps invite me back to bring with me all of the scientists, executives and financiers who would like to participate in this kind of development of the Ring of Fire, together with the leaders of the indigenous communities in the surrounding James Bay Lowlands.
And then, let's have a rendezvous and talk it all out. I can tell you most emphatically, that they are all very, very willing. They just need to know you care!
We would hope that the Prime Minister would sit in on our rendezvous.
And we commit to you to also invite native son Elon Musk.
Thank you.
Déclaration de Frank Smeenk, président et chef de la direction de Resources KWG Inc. Ouverture:
Mesdames et Messieurs, je vous remercie beaucoup pour cette occasion de vous parler ce matin. Vous voyez, les quatre questions que le comité se penche ici aujourd'hui sont des questions que je pense environ 18 heures de chaque jour de ma vie.
Le Canada possède les sables bitumineux situés profondément à l' intérieur des territoires désolées qui sont habités principalement par les populations autochtones. Les sables bitumineux sont évalués à plus de 2 billions $ et quand le prix du pétrole est effondré récemment , donc fait du dollar canadien. Impact sur l' environnement est une préoccupation majeure pour le développement des sables bitumineux. Industrie et le gouvernement a dépensé plus de 100 milliards $ dans le développement des sables bitumineux. Les sables bitumineux devraient contribuer à l'économie canadienne pour les 170 prochaines années.
Le Canada a aussi les riches réserves minérales de l'Anneau de Feu situé profondément à l' intérieur des territoires désolées qui sont habités principalement par les populations autochtones. Les populations autochtones des Lowlands Bay James sont toutefois isolés et bloqués au milieu du deuxième plus grand pays de notre nord de la tourbe du monde toundra qui est seulement accessible en hiver, si ces gens indigènes luttent contre les tempêtes de neige à travers les routes d'hiver gelés. Le minéral majeur dans le Ring of Fire est chromite. On estime qu'il y a autant que 600 milliards $ de chromite enterré dans le Ring of Fire. Industrie et le gouvernement a dépensé environ 1 milliard $ dans le développement du Ring of Fire.
Le développement du Ring of Fire est peut – être le plus grand à côté des principaux moteurs de l'économie canadienne. J'estime qu'il pourrait contribuer une croissance de 2% dans notre PIB, soit 35 milliards $ par année, pour chacune des 100 prochaines années.
Environ deux tiers de chrome du monde est vendu aux Chinois qui produisent environ deux tiers de l' acier inoxydable du globe. Seulement il y a quelques ma société KWG Resources, une société junior d'exploration, payés pour un contingent de 9 ingénieurs chinois mois pour visiter le Ring of Fire et de commencer une étude de faisabilité pour construire l' accès à cette région éloignée.
On estime que le Nord canadien qui est habité par un grand nombre de 1,831,000 personnes autochtones qui possédaient, et peut – être encore propriétaires, de gros morceaux de ce grand pays, fait partie d'un écosystème situé au- dessus du 50e parallèle contenant un tiers des arbres du monde qui sont filtrer les émissions de carbone de la planète. Terres de tourbe eux – mêmes sont considérés comme des puits de carbone les plus efficaces du monde.
Chine et en grande partie ses industries de l' acier ont été identifiés comme les principaux pollueurs de l'atmosphère. Ils sont d' essayer de nettoyer leur acte. En Février 2016 , ils ont signé une déclaration conjointe avec le Canada sur un accord de coopération en matière de technologies propres.
Canada, principalement dans le nord, est un générateur de crédits substantiels de carbone. La Chine a une obligation envers le monde pour équilibrer leur pollution avec des crédits de carbone.
Le Ring of Fire peut être développé en coopération avec les 24.000 personnes autochtones vivant dans les communautés du nord de la baie d' Hudson en utilisant la technologie propre. Sinon , nous pouvons le faire comme nous l' avons toujours en utilisant l' ancienne technologie et les méthodes de transport anciens qui tous contribuent au réchauffement climatique peut interférer avec un écosystème délicat de ce qui est aujourd'hui la topographie vierge.
Elon Musk est né d'une mère Regina-natale et a fréquenté l' Université Queens à Kingston avant que cette exportation canadienne a déménagé à la Silicon Valley pour finalement trouvé Tesla et maintenant SpaceX tout en continuant à essayer de faire une différence écologique dans le monde.
KWG, notre société, a développé une technologie propre à l' aide du gaz naturel qui est jusqu'à 70% plus respectueux de l' environnement dans le traitement de chromite que la technologie actuelle de l' arc électrique. Votre ministère des Richesses naturelles de CanMet Lab est en train de tester notre technologie et de faire un excellent travail avec des résultats remarquables. Commercialiser ce processus permettra au Canada d'être plus bas producteur de ferrochrome des coûts dans le monde.
Le Ring of Fire a besoin de 3 milliards $ en financement du développement et principalement pour le transport d'une voie écologiquement sympathique à travers la toundra aux liaisons ferroviaires du CN et le Canadien Pacifique dans le sud.
Ainsi , le décor est planté. Président Xi de la Chine a besoin de notre chrome et il a besoin de nos crédits de carbone. Notre premier ministre et votre gouvernement ont l' obligation de préserver l'environnement, les obligations des peuples autochtones, et vous êtes engagés à poursuivre la croissance et à la prospérité de notre pays.
Je vous demande donc d'implorer le premier ministre Trudeau de présenter au Président Xi notre solution élégante qui peut influer sur le Canada pour les 100 prochaines années. La Chine va acheter chrome du Ring of Fire sur un programme d'achat de 100 ans. Avec un tel engagement de la Chine, il sera donc financer le développement total de l'Anneau de Feu et nous donnera la Chine de chrome et de crédits de carbone. La Chine et le Canada vont gagner beaucoup d' attention internationale pour un tel commerce!
Retour à Elon Musk. KWG travaille avec Elon à travers l' un de ses incubateurs sur une solution pour le transport du minerai et du peuple, et à partir du Ring of Fire. Nous l' appelons le Ring of Fire Project Hyperloop.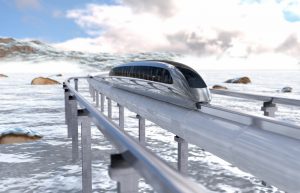 Le gouvernement du Canada appuie, selon la presse, un Hyperloop appelé TransPod à construire entre Toronto et Montréal. Pensez le tube à vide pneumatique ancien grand magasin qui a utilisé pour livrer les factures, puis mettre le minerai et les gens dans les capsules.
Le magazine de vie Toronto dit que dans 50 ans , la ville disposera de 13 millions de personnes et un Hyperloop les livrera à Montréal en 30 minutes.
Je soutiens que nous devrions nous occuper de nos obligations envers les peuples autochtones en premier. Seulement 36% d'entre eux obtiennent leur diplôme d'études secondaires. Nous proposons que la plus élégante utilisation du, efficace, rentable et respectueux de l' environnement de la technologie Hyperloop est de construire une Hyperloop du Ring of Fire à Nakina en Ontario.
A titre d'accessoire à nous apporter chromite, il va créer des emplois et même le tourisme qui pourrait ne pas exister peut – être sans ce genre de jeu évolution de la technologie Hyperloop. Bien entendu , en variante , nous pouvons construire un chemin de fer traditionnel.
Donc , mesdames et messieurs, je pense avoir répondu à toutes vos questions. J'ai défini pour vous une stratégie de croissance pour 100 ans qui a le potentiel des sables bitumineux de l'Alberta, et contribuera au moins 35 milliards $ dans la croissance du PIB et un cumulatif $ 3500000000000 de l'activité économique à long terme, à mon avis.
J'ai défini l'effet de levier que nous avons dans le contrôle de cette source exclusive et le géant de la seule chromite dans l'hémisphère occidental; et la Chine a besoin de notre ressource. Bien sûr , ils sont prêts et anxieux pour la coopération du Canada pour leur permettre d'acheter le chrome et le financer. Nous croyons que le premier ministre Trudeau n'a qu'à demander la commande.
J'ai défini pour vous deux technologies ayant un impact environnemental majeur qui va propulser le Canada vers le haut de l' admiration mondiale en utilisant des technologies propres pour développer une propriété minière majeure.
Je vous ai donné un programme qui profitera aux populations autochtones qui en quelque sorte que nous avons isolé dans ces territoires éloignés qui sont maintenant critique de l' environnement à la survie de la planète. Je vous ai donné une solution pour qu'un certain nombre de petites communautés de populations autochtones ne sera plus isolé et bénéficiera énormément économiquement. Je vais en outre que KWG intègre dans sa prise de participation importante de plan pour les populations autochtones dans le développement du Ring of Fire.
En terminant, je voudrais vous demander de me réinviter avec tous les scientifiques et les cadres qui souhaitent participer à ce genre de développement du Ring of Fire, en collaboration avec les dirigeants des communautés autochtones dans les environs de la baie James, et nous allons avoir un rendez – vous. Nous espérons que le premier ministre asseoir et nous nous engageons à vous d'inviter aussi un fils natif, Elon Musk.
Je vous remercie.