RING OF FIRE RAILWAY – CHINA FSDI VISITS RAIL CORRIDOR TO ROF
[put_wpgm id=5]
UPDATE:

KWG RESOURCES & CHINA FIRST SURVEY & DESIGN INK STRATEGIC COOPERATION AGREEMENT
KWG Resources and China Railway First Survey & Design Institute (FSDI) have signed a Framework Strategic Cooperation Agreement and FSDI is engaged to complete railway design achievability study.
The achievability study is scheduled to be completed on the railway from the Ring of Fire to the CN rail line at Exton, Ontario before the end of 2016.
As the various studies and plans are completed, they will be shared with the Chiefs of the Marten Falls and Webequie First Nations for dissemination within their communities to facilitate consideration of KWG's proposal to create an equal partnership with them in the integrated mining and transportation operations.
中铁第一勘察设计院集团有限公司(中铁一院)和KWG资源公司(KWG) 签署了"关于共同对火之环地区鉄路设计及融资的可行性研究"的整体框架合作备忘录。此有关中铁一院的宣传短片由中铁一院提供并授权KWG使用。(FSDI information videos are being used with it's permission.)
CHINA FSDI TOUR POTENTIAL RAIL CORRIDOR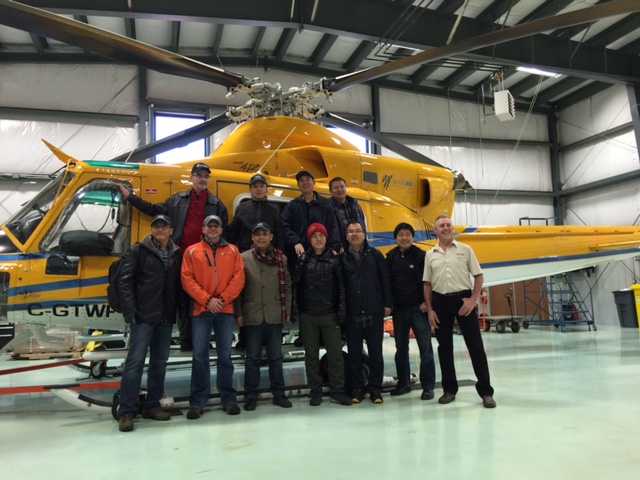 "I think this is a really good project. It has a lot of potential," said China Rail's First Survey & Design Institute vice president Zhu Lizheng – April 2016
Senior engineers from China Railway First Survey and Design Institute (FSDI), along with officials from KWG Resources, flew by helicopter from Thunder Bay to the Ring of Fire region in northern Ontario on both Wednesday, April 13th, 2016 and Thursday, April 14th, 2016.
Mark Wiskemann, president of Wisk Air, with a Bell 412 helicopter in the background, added that to have the railroad project, "re-visited and re-opening is huge for the area, the development of the Ring of Fire — to the state that it is in today — is largely due to helicopters."
A senior management FSDI engineer team flew over the KWG Ring of Fire rail corridor area, first surveyed in 2010, interested in seeing the ice conditions, which have a potential harmful impact on bridges but can be mitigated through proper structural engineering design.
KWG Resources owns 100% of Canada Chrome Corporation which has staked claims and conducted a surveying and soil testing program, originally for the engineering and construction of a railroad to the Ring of Fire from Aroland, Ontario.
The future development of the Ring of Fire is of great interest in China, as the country consumes approximately 60% of the world's ferrochrome. Ring of Fire chromite may enable the development of a new, more environmental friendly method of refining ferrochrome at lower temperatures, using less energy; low-cost natural gas – abundant in Canada – rather than expensive electricity.
Processing more ferrochrome in Ontario using Canada's wealth in natural gas enables a greater percentage of value-added finished product into a long term globally competitive export market.
In the interest of developing the Ring of Fire through provision of a railway corridor, KWG Resources Ltd. and FSDI turned to each other for assistance in creating a study for Ring of Fire railway. KWG Resources and FSDI signed a standstill and confidentiality agreement in November of 2015. This allowed the data that KWG's Canada Chrome Corporation had assembled for constructing a railroad into the Ring of Fire to be studied by FSDI.
Then, late in December of 2015, KWG announced that FSDI had determined that the data was adequate for the preparation by FSDI of a railway achievability study.
In January 2016, KWG Resources and FSDI announced the signing of a MOU to proceed. Under that agreement, FSDI sent a delegation of eight professional railroad engineers to visit the field and commence their work with a reconnaissance tour. This senior management team arrived in Toronto on Monday, April 11th, 2016, from Xi'an, China to begin consultations.
KWG & CHINA FSDI VISITS ONTARIO DEVELOPMENT CORPORATION
Moe Lavigne, vice president of KWG Resources, said the latest round of engineering work 'is very important to our Chinese partner, because that becomes the foundation for the study.'
China Railway First Design Survey Institute's vice president Zhu Lizheng and KWG Resources CEO, Frank Smeenk, discussed the plan for a study for the design and financing of a north south route for the Ring of Fire railway with Rob Dowler and Ehren Cory, directors of the Ring of Fire Infrastructure Development Corporation of Ontario.
FSDI engineers stayed for three days in Toronto, and were welcomed by Minister of International Trade Michael Chan in his office at 09:30 on Monday. They then were recognized in the Ontario Legislature by Finance Minister Charles Sousa and visited with the PRC Consul General before departing for Thunder Bay.
On the Wednesday and Thursday, KWG Resources conducted, by helicopter, with FSDI, a number of crucial site inspections along KWG's 'railroad route' claims. The City of Thunder Bay then hosted a reception for the delegation on Friday April 15th, with a luncheon, at the Valhalla Inn.
KWG & CHINA FSDI VISITS ONTARIO NORTHLAND RAILWAY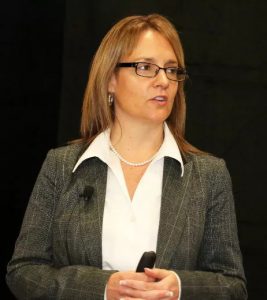 On Saturday, FSDI and KWG traveled by charter, for an introductory visit with the Ontario Northland Railroad executive and then onward to Montreal for an introductory meeting on Monday at CN's head office.
Corina Moore, the president and CEO of Ontario Northland said her company is ready and more than able to provide a world class rail freight service to help the success of the Ring Of Fire mining development."Our capabilities were highlighted that we can provide and support and operate a railway. We can provide the rail traffic control because that's what we do out of our Englehart station for our railway. We can maintain the fleet, because that's what we do in Cochrane," Moore explained.
"Our meeting [with China Railway First Survey and Design Institute (FSDI)] was about our capabilities should that be the way to the Ring Of Fire at some point in the future," said Moore.
On Tuesday, April 19th, they traveled by train to Ottawa for a visit to the House of Commons and returned by air to Toronto for a departure on Wednesday for Vancouver and finally on to Beijing, China from Vancouver on the Friday.
KWG AND CHINA RAILWAY FIRST SURVEY & DESIGN INSTITUTE GROUP CO., LTD. SIGN MEMORANDUM OF UNDERSTANDING
In January of 2016, China Railway First Survey & Design Institute Group Co., Ltd. (FSDI) signed a (Click here for) Memorandum of Understanding with KWG Resources setting out the terms for mutually proceeding with a study for the design and financing of a railroad to the Ring of Fire.
中铁第一勘察设计院集团有限公司(中铁一院)和KWG资源公司(KWG) 签署了"关于共同对火之环地区鉄路设计及融资的可行性研究"的整体框架合作备忘录。此有关中铁一院的宣传短片由中铁一院提供并授权KWG使用。(This information video is being used with the permission of FSDI.)