RECENT – NEWSWORTHY – CONNECTED
IN THE MEDIA
By: LEGISLATIVE ASSEMBLY OF ONTARIO, LEGISLATIVE ASSEMBLY OF ONTARIO, ASSEMBLÉE LÉGISLATIVE DE L'ONTARIO, Wednesday 22 March 2017 Mercredi 22 mars 2017
…Mr. Michael Mantha: Or what didn't happen.
Mr. Gilles Bisson: — as my good colleague from Algoma–Manitoulin would know—we had an opportunity to develop the primary chromite deposit in the world, at a time when commodity prices were high and demand was high. It was just the perfect alignment to be able to raise the dollars necessary to build what would have been a huge operation in the Ring of Fire and for Ontario to be in the refining business, making not only steel but stain-less steel, putting Ontario on a really good economic footing when it comes to the steel, stainless steel and mining industry.
…This government, because it didn't take seriously its responsibility when it comes to the accommodation for the duty to consult and to do what needed to be done by way of First Nations, said, "Private sector, you go out and do it." So Cliffs resources, Noront, KWG and a number of other people went out there trying to, in their own way—I think of Frank Smeenk and the work that he has done and the millions of dollars he has spent trying to consult with First Nations in order to come to some sort of an agreement and a scheme that would give them a real, positive role in this Ring of Fire. He was never able to get there because he could never get the provincial partner to do what needed to be done, because the provincial government seemed unwilling, confused or paralyzed. I'm not quite sure which; probably a little bit of all—when it came to really making some key decisions in order to allow companies like KWG, Cliffs resources, Noront and others to go forward with their projects.
So all of these players were spinning their wheels trying to make something happen. They wanted to develop mines. The First Nations wanted mining developed but wanted to be fairly compensated, and they wanted to make sure there was economic impact for them that would be positive. The environmental people wanted to make sure, rightfully so, that we protect our environment. Instead, nothing happened. So Cliffs resources walked away. They walked away from what is the richest chromite deposit in the world and sold it to Noront for, what, $26 million or something like that?
…If the government had been serious, there would be a mine—not one; I would argue at least two mines—at least two mines running up in the Ring of Fire today, and literally thousands of jobs. It means that if we were smart as a province, we would have said, "We will do this, O Private Sector, including building infrastructure to the Ring of Fire—road, rail and hydro—in exchange for making sure that we develop a stainless steel industry in Ontario where communities like Hamilton or Sault Ste. Marie, wherever there is steel manufacturing, could participate in making stainless steel."
Why should you mine chromite in the Ring of Fire in Ontario, pack it up as lumpy ore — because that's what they do with it; it's lumpy ore—and then ship it to China?
READ HOW ITS CONNECTED TO KWG RAIL – MINE OPERATOR OWNERS: FIRST NATIONS AS FULL PARTNERS
---
By: Frank Giorno, PARLIAMENT of CANADA – Standing Committee on Natural Resources (RNNR)
Presented to the House: Tuesday, March 7, 2017
Some witnesses also argued that the lack of infrastructure connecting mineral deposits to markets and population centres is a barrier to attracting investment in Canadian mineral exploration. For example, the Committee heard that billions of dollars are required to build the infrastructure needed for mineral development in Ontario's Ring of Fire region, including transmission lines, power grids, fibre optics, railways and roads. According to Frank Smeenk of KWG Resources Inc., an estimated $3 billion investment is needed for transportation assets alone before any mines can begin operating. Iain Angus of the Northwestern Ontario Municipal Association pointed out that addressing the infrastructure deficit in the north will likely lower the cost of mining activities and advance the development of remote Indigenous communities.
READ HOW ITS CONNECTED TO KWG RAIL – MINE OPERATOR OWNERS: FIRST NATIONS AS FULL PARTNERS
---
By: Frank Giorno, TimminsToday.com
March 5, 2017
"The Ring of Fire, the vast tract of mining potential northwest of Timmins and Northeast of Thunder Bay will again be a centre of attention with companies like Noront, KWG and Bold Resources on hand to bring the mining community up to date on their activities, successes and challenges."
READ HOW ITS CONNECTED TO KWG RAIL – MINE OPERATOR OWNERS: FIRST NATIONS AS FULL PARTNERS
---
By: Northern Ontario Business Staff, NorthernOntarioBusiness.com
Feb 28, 2017
In the comments section, the vice-president of a producer company called amendments to Ontario's Mining Act involving a switch to map staking and a new requirement for exploration permits "deterrents to investment in the province."
A president of a producer company said: "Building a road or rail to the Ring of Fire would help to encourage investment in the province."
READ HOW ITS CONNECTED TO KWG KWG RESOURCES & CHINA FIRST SURVEY & DESIGN INK STRATEGIC COOPERATION AGREEMENT
---
By: Ben Leeson, The SudburyStar.com
Feb 14, 2017
Move on Ring of Fire
Asked about his vision for development in the Northern Ontario Ring of Fire, a massive deposit of chromite and other minerals in the James Bay Lowlands, Brown said the province must do its part to speed up the process.
Noront Resources and KWG Resources, two major players in the Ring, recently laid out their plans for development there. Noront hopes to start small with a road while mining nickel, copper and a small amount of chromite to sell in the northeastern United States, while KWG prefers a railroad to move large quantities of chromite.
Chromite is a key component in the manufacture of stainless steel.
"This needs to be done, obviously, in co-ordination with indigenous communities and local municipalities, but we have been waiting five years," Brown said. "What I'm saying is this can't be delayed further and what we would want is to expedite that investment. Everyone's got to be at the table for that, but we can't be sitting and waiting another five years. We have had three announcements that shovels were about to go in the ground, three re-announcements in five years, and there are no shovels in the ground.
"As far as rail to road, those are options we would welcome looking at with all the stakeholders involved."
READ HOW ITS CONNECTED TO KWG KWG RESOURCES & CHINA FIRST SURVEY & DESIGN INK STRATEGIC COOPERATION AGREEMENT
---
By: Ian Ross, NorthernOntarioBusiness.com
November 2, 2016
Northern Development and Mines Minister Michael Gravelle said "We're always looking for investment in the Ring of Fire. Certainly in relation to that particular project, we've been seeking to see a business plan in terms of that project moving forward."
KWG Resources and China Railway First Survey & Design Institute (FSDI) have signed a Framework Strategic Cooperation Agreement and FSDI is engaged to complete a Conditional Bankable Feasibility Study Consultation Service Agreement ("BFSCS"). The full BFSCS study is scheduled to be completed on the railway from the Ring of Fire to the CN rail line at Exton, Ontario before the end of 2016.
READ HOW ITS CONNECTED TO KWG KWG RESOURCES & CHINA FIRST SURVEY & DESIGN INK STRATEGIC COOPERATION AGREEMENT
---
By: Chris Dawson, BayToday.ca
November 1, 2016
"The steel that the ministry may want to change to, it's got more nickel and chromium in it, so it will last longer, you get a longer service life which reduces costs over the life of the bridge," said Thomsen."
READ HOW ITS CONNECTED TO KWG "The combinations of cheap natural gas and large quantities of high grade chromite in Northern Ontario have the potential to completely revolutionize the market for chrome units into stainless steel manufacture."
---
By: Alan S. Hale, The Daily Press Timmins Press
October 21, 2016




KWG – The Ring of Fire Partnership Presentation
Nishnawbe Aski Development (NADF) Events, October 20th, 2016, Days Inn, Timmins, Ontario
The 6th Annual Mining Summit delivers a fulfilling learning and networking experience for participants keen on obtaining new knowledge and connections in the field of mining. Building upon the theme "Preparing Aboriginal Communities For Mining Related Business Opportunities", the event offers a unique opportunity for participants to strengthen their capacity to explore and develop meaningful partnerships with Aboriginal and non-Aboriginal communities and businesses on mining related business opportunities.
READ HOW ITS CONNECTED TO KWG RING OF FIRE DEVELOPMENT: FIRST NATIONS AS EQUAL PARTNERS, NATURAL GAS CHROMIUM REDUCTION, RAIL AND SMALL FOOTPRINT MINE
---
By: Martin Creamer, Creamer Media's Mining Weekly
October 12, 2016
"Had the Lion operation not installed the Premus technology, it would have needed an additional 1,776 MWh to produce the same volume of ferrochrome. Instead, all four furnaces collectively use some 4,800 MWh/d."
READ HOW ITS CONNECTED TO KWG Reducing energy consumption by alternative processing routes to produce ferrochromium alloys from chromite ore
---
Commentary Opinion
By: Tim Armstrong, theStar.com
Tues., Sept. 13, 2016
"Joining the China-sponsored Asia infrastructure investment bank allows Canada to join an unprecedented global development initiative. The prime minister's decision to join the AIIB was a commendable first step."
READ HOW ITS CONNECTED TO KWG RING OF FIRE RAILWAY – CANADA'S SECOND LARGEST TRADING PARTNER – CHINA
---
By: Brian Kelly, Sault Star
9/10/2016
"Resource revenue sharing, not impact benefit agreements and employment, is how First Nations should be benefitting most for natural resource extraction", said the former Serpent River chief.
READ HOW ITS CONNECTED TO KWG RING OF FIRE RAILWAY – FIRST NATIONS FULL PARTNER IN UTILITY
---
The Globe and Mail
By: Bill Curry
8/26/2016
KWG Resources Inc. own estimate on Friday from GreenForest Management Inc., a company with experience building logging roads, put the price at $83.6-million to $99.9-million to access the deposits and up to $73.1-million or $173-million more to connect area First Nations to the main road instead of $550-million.
Bruce Achneepineskum, chief of Marten Falls First Nation, which is south of the Ring of Fire but was not part of the [$785,000 federal and provincial government paid] study, said his community is working with investors on a separate study focused on a north-south road to the Ring of Fire that would also connect his fly-in First Nation to the south.
Mr. Achneepineskum said he believes the benefits of an all-weather road are clear, given that it costs about 52 cents a pound to transport goods into the community.
"Your wallet shrinks pretty fast," he said. "The road would bring down the cost of living in remote communities. It would free up money to further construction, build more houses, people could buy more food and it would allow a little bit of freedom for those residents to come in and out of the community and mingle with the outside world." – The Globe and Mail
READ HOW ITS CONNECTED TO KWG RING OF FIRE – ENGINEERING – EAST WEST ALTERNATE ALL-SEASON ROAD SYSTEM
---
Ring of Fire Leaders Sign Agreement
Ontario News North
By: Karina L. Hunter – Editor/Publisher 4/19/2015
Marten Falls First Nation and Webequie First Nation today entered into a "Negotiation Protocol Respecting Early Exploration in the Ring of Fire". The protocol strengthens the commitment of both First Nations to work together to advance their common interests in a coordinated manner while respecting their mutual and unique interests over their respective lands and approvals to use the lands.
"This will not only be good for us, but will also be good for the exploration companies to know the protocols for exploration on our mutual traditional lands", stated Chief Cornelius Wabasse of Webequie First Nation.
READ HOW ITS CONNECTED TO KWG RAIL – MINE OPERATOR OWNERS: FIRST NATIONS AS FULL PARTNERS
---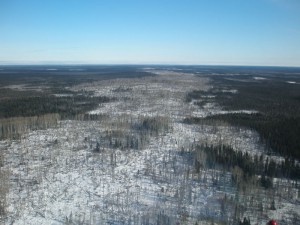 ResourceClips
By: Greg Klein 8/26/2016
"Clearly nothing is going to be built in that part of Canada without social licence," – Frank Smeenk, KWG Resources Ltd. President. As for the region's existing winter road, access "appears … increasingly unreliable as a consequence of warmer winter temperatures."
KWG's study estimated the cost of connecting its proposed north-south rail line with an existing road near Pickle Lake, about 305 kilometres west, between $83.6 million and $99.9 million. Trunk roads to four reserves would add another $36.1 million to $73.1 million. The four communities, [Eabametoong First Nation (Fort Hope); Neskantaga First Nation (Lansdowne House); Webequie First Nation and Marten Falls First Nation (Ogoki Post).] total roughly 2,500 people, according to numbers then available to the researchers.
(The study notes that additional trunk roads to connect Nibinamik, Kingfisher, and Wunnumin Lake are also feasible but required further research for construction budgeting purposes.)
READ HOW ITS CONNECTED TO KWG RING OF FIRE – ENGINEERING – EAST WEST ALTERNATE ALL-SEASON ROAD SYSTEM
---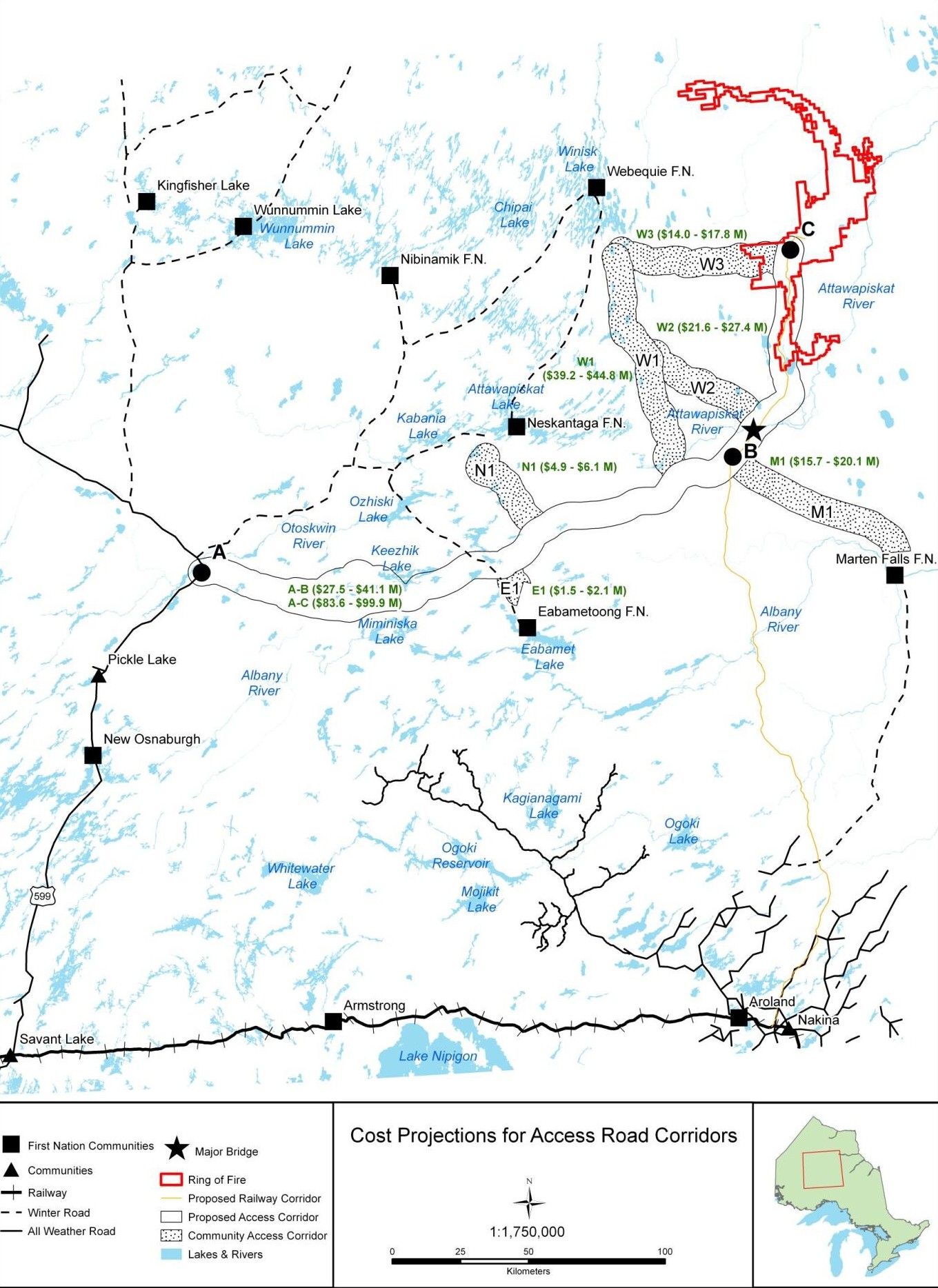 Northern Ontario Business
By: Northern Ontario Business staff
7/27/2016
Among the challenges identified in the Green Forest report was the difficulty of road construction over the northwestern Ontario terrain and in finding sources of road building material and aggregate the closer one gets to the James Bay lowlands. The consultants cautioned against using the existing winter road network "unless it is absolutely necessary or unavoidable" since these roads are located in low, wet areas.
"Aggregate sourcing and importation is expected to be one of the higher cost components," said the report.
Green Forest recommends taking the more direct route to the Ring of Fire, maximum the use of high ground and nearby available road building material, and avoid swamp and muskeg as much as possible.
(Note as Addition: KWG Resources put before the Minister of Natural Resources the details of the railroad feasibility study to be undertaken to insure that surface tenure may be assured as an assumption in the study, that the consolidated aggregates may be mined from the claims to provide material for the railroad bed, and that the claimholder's priority to consolidated aggregate is maintained.)
READ HOW ITS CONNECTED TO KWG RING OF FIRE – ENGINEERING – EAST WEST ALTERNATE ALL-SEASON ROAD SYSTEM
---
Economics Documentation Library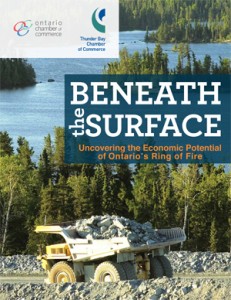 ---
First Nations Documentation Library
---
Environment Documentation Library
---
Rail Documentation Library
---
Chromium IP Documentation Library