RECENT – NEWSWORTHY – CONNECTED
IN THE MEDIA
By: Northern Ontario Business Staff — NorthernOntarioBusiness.com
August 11, 2017
…Participating in the symposium on the corporate side were Aecon, ATCO, Bold Resources, Greenstone Gold, KWG Resources, Noront Resources, and Wabassi Resources…The event was deemed a success by all involved and community has plans to make the symposium an annual event geared to all the traditional land holders and companies in the area.
"We hope to provide this regional forum for engagement between mining companies, suppliers and First Nation members that will be used for providing project information and for partnership opportunities between companies and interested First Nations or their members," said the release.
Marten Falls is the most mine-ready of the nine communities in the Matawa council and is being courted by the mine development companies with claims in the Ring of Fire.
The fly-in community of 250 is located 170 kilometres northeast of Nakina, and just east of where KWG Resources proposed a north-south rail corridor.
Marten Falls is also holding discussions with the provincial government on a community access road…
READ HOW ITS CONNECTED TO KWG RAIL – MINE OPERATOR OWNERS: FIRST NATIONS AS FULL PARTNERS

---
Economics Documentation Library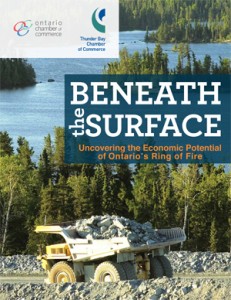 ---
First Nations Documentation Library
---
Environment Documentation Library
---
Rail Documentation Library
---
Chromium IP Documentation Library